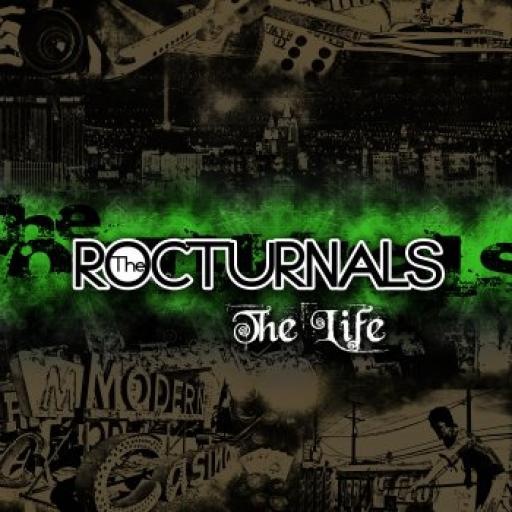 About Us therocturnals
The city of Las Vegas is shedding its image as the burial grounds for artists who no longer have a main stay in main stream music. It is quickly becoming known as the new Hollywood, "Desert Hollywood"  with artist such as The Killers, Panic At The Disco & Neyo, Vegas is getting a musical facelift and becoming the new powerhouse in the future of music.
Next up to further shine the light on Desert Hollywood are "THE ROCTURNALS" (Formerly known as KansasCali). The Rocturnals are paving way for a new movement in music, debuting with a genre they've created & dubbed "Urban Rock". It's what they call a combination of "Funk Rock, Alternative Rock music with Soulful Overtones, Hip-Hop Aggression and R&B Melodies" mixed. They are referred to by some Vegans as the urban version of Linkin Park.
Though the band individually hails from different parts of the United States, they all converged in Las Vegas. Lead Singer Pittboss hails from Chino Hills, California, while Lead Vocalist/Rapper Novelist comes from El Paso, Texas & Topeka, Kansas by way of Ponce, Puerto Rico, they are the original founders of the band. The other three members are the Drummer E. Borders from L.A., Guitarist Adam Crow hails (we don't even know) and Trist from Sitka, Alaska.
 The band jumped on the road to stardom 4 years ago as "KansasCali". Their music video for their song "If I..." landed on DVD & "Inspired By Soundtrack" of the 2005 Academy Award winning movie "Crash" (stars Don Cheadle & Matt Dillon) with their song entitled "If I…", over 6 million DVDs with the version of their music video on it was sold. Almost immediately after that, the band landed another song, "If I Never See You Again"  on the International Soundtrack of 2005 "Mr. & Mrs. Smith" (stars Brad Pitt & Angelina Jolie) this was a rare feat for an Independent Band.
With the band coming off the success of two blockbuster movie soundtracks their career began to bloom landing on three more soundtracks (Orlando Bloom's) 2006 "Haven", (ESPN's) 2006 "Once In A Lifetime" , (Jamie Kennedy's) 2007 "Kickin It Old Skool" in which their song "The Life" was added as an "End Title" in the movie which follows Jamie Kennedy's song "1984". KansasCali produced and was also featured on the debut albums of KCi Hailey (Lead singer of Jodeci) "My Book" & Aaron Hall's (of GUY) "Adults Only" and most recently their song "This Is Where Amazing Happens!" 2010 written for the NBA as a theme song, debuted at NBA Rookie All-Star Game MVP Presentation on TNT.
 The Rocturnals are set to debut in 2011 with their album "The Life", an album that is described as, "One that a man can truly use to communicate with and convey to his woman how he truly feels, when he doesn't know how to explain for himself. This album covers Life, Love and Business with content that 95% of everyday people are dealing with today." - The Rocturnals
therocturnals Also On
Followers:
Recently Rated:
stats