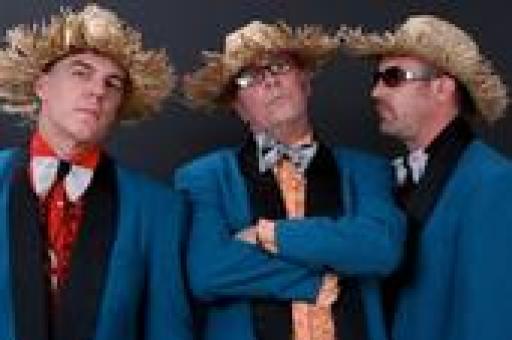 About Us The New Duncan Imperials
It's hard to believe it now, but before 1989 no band had ever combined the explosive elements of white trash culture, Dada art and Chuck Berry. There was a gaping hole in the fabric of popular entertainment and the New Duncan Imperials sewed it up. Springing to life in Chicago almost 20 years ago, the band startled the club scene with its overpowering live show and reckless disregard for boundaries, confronting unsuspecting crowds with a blizzard of gloriously heavy riffage and free-association lyrics that ran the course from the Brady Bunch to Friedrich Nietzsche.

The NDI saga began in Chicago in the spring of 1989. Bored with the straight-ahead approach of the band they were in, Pigtail Dick (guitar and vocals), Skipper Zwackinov (bass, balloons, and vocal), and Goodtime Dammit (drums, drums, drums) began playing for laughs in the basement of Pigtail's mom's house. "She really, really hated us," Goodtime recalls. "That's when we knew we were onto something." The band focused on laying strange yet sharp lyrics. "Most of our songs were about food, or driving, or how to prepare intricate chicken dishes while driving," says Skipper. "A lot of people didn't get it, but the ones who did loved it." Their first gigs, noisy slugfests in cramped dives around the seedy parts of Chicago, are now the stuff of legend. It wasn't long before the band was the toast of the town, and soon one of the most widely-read rock critics in town, Bill Wyman of the Chicago Reader, had annointed them "The Best Band in the City." The Chicago Tribune followed suit (adding the word "live" to the title), and the boys were in business.
The New Duncan Imperials Also On
Influences:
Followers:
Recently Rated:
stats