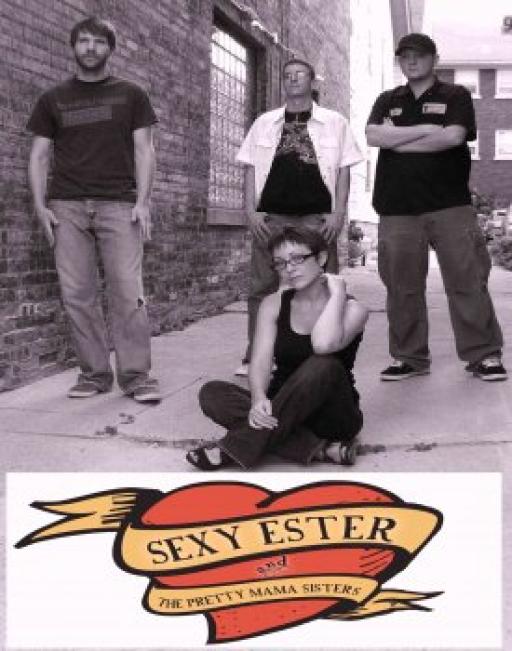 About Us Sexy Ester and the Pretty Mama Sisters
Sexy Ester and The Pretty Mama Sisters is currently a Pop/Rock trio who is influence mostly by the classic rock greats such as The Beatles, The Who, Neil Young, and Janis Joplin just to name a few. Sexy Ester has played to packed venues all over Southern Wisconsin and Northern Illinois. They will be releasing their debut album "Get Your Love On" in September of 08. Sexy Ester has worked with different lineups of musicians over the years but have found harmony with drummer Dusty Hay. Dusty added a whole new dynamic to the sound which had been totally acoustic. With his help their music has evolved to the spirited sound that it is today.

Sexy Ester vocal lead Lyndsay Evans has been belting out songs since she learned to talk. She lists her vocal coaches as Ann Wilson, Paul McCartney, Freddy Mercury, Pat Benatar and Janis Joplin. Lyndsay was introduced to rock-n-roll by her father, Dave, who would wake the family up in the morning with classic rock blaring from the radio. "I can't remember not knowing who the Beatles, Abba or Pink Floyd were," Lyndsay said. "We used to listen to them on Vinyl." Although her favorite bands came from the 60s and 70s, Lyndsay loves all genres of music and that is apparent in each of her songs.

Even while being raised in a home without a stereo, Adam Eder managed to find the great bands and singers like The Beatles, Pink Floyd, the Doors, Captain Geech and the Shrimp Shack Shooters, Neil Young and Bob Dylan. Adam picked up the guitar as a 14-year-old, admittedly thinking it would make him popular with the ladies. He was just 15 when he and four friends formed a grunge -- and later-turned goth -- band Vampyres Sleep in the Shade featuring Sexy Ester drummer Dusty Hay. Although the band split in 2000, Adam stayed with music and began seriously writing songs with his future wife, Lyndsay Evans. Dusty Hay's percussion talent really blossomed when, at the age of thirteen, he was asked by his brother Josh and cousin Adam Eder to form a grunge band, then called Nimbus. When the they disbanded in 2000, Dusty took time away from music to pursue his "other profession". "I am back and loving it more than ever", Dusty said.

Dusty sites his biggest musical influences as being The Beatles, CCR, The Doors, Weezer, Green Day, Oasis, and Nirvana but he believes the best decades of music were the 60's and the 70's. "I do not believe the music made today is even close to the music made back then.", Dusty said. Dusty Hay has an ear for music. He commands attention writing and playing drum parts that make the music of Sexy Ester come alive and reach it's full potential.
Sexy Ester and the Pretty Mama Sisters Also On
Followers:
Recently Rated:
stats
Tag Cloud: