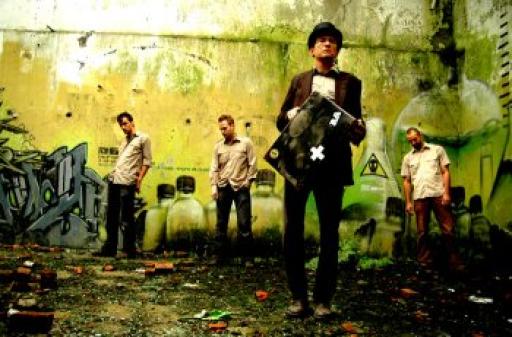 About Us Cloon
What would happen if you would put members from Tool, Faith No More and Primus in a band with Frank Zappa & Tom Waits?

Cloon started out in 2002 as an instrumental project containing current members Maarten, Philippe, and Servaas. A 4th Cloon member joins the ranks in February 2004. Tom Claus takes his place behind the microphone and appears to be the missing part of the puzzle, performing as an excellent story-teller and vocalist, but above all a genius with a master diploma in crazy freaked-out frontmanship. New songs were written and a new Cloon was born ...

A first demo was recorded in the spring of 2004, containing 3 songs, getting them on stages everywhere in Belgium. In november 2006, Cloon releases a 5-track counting, self-titled Limited Edition EP. The Belgian Music Press goes wild, and Cloon hits stages in Belgium, The Netherlands, Germany and the UK.

In October 2007 Cloon was invited to be the main support act of Swedish multi platinum act CLAWFINGER on their European tour. During 12 shows in Germany, Austria and Switserland, Cloon played in front of a total of 10.000 people. American independent movie director Fredy Polania noticed the band aswell, and selected Cloon as one of 20 bands to apear on the soundtrack of his upcoming movie "CABRAS".

Today, the band is ready to hit the studio for their long awaited debut full lenght album, to be released somewhere late 2008.

Cloon is Europe's best kept secret in heavy rock music, but it won't stay that way for too long. This band is determined to conquer Europe and beyond, and with the ambition and talent of the 4 bandmembers, they just might succeed in doing that!
Cloon Also On
Influences:
Tool,Faith No More,Primus,Frank Zappa,Tom Waits
Followers:
Recently Rated:
stats
Tag Cloud: