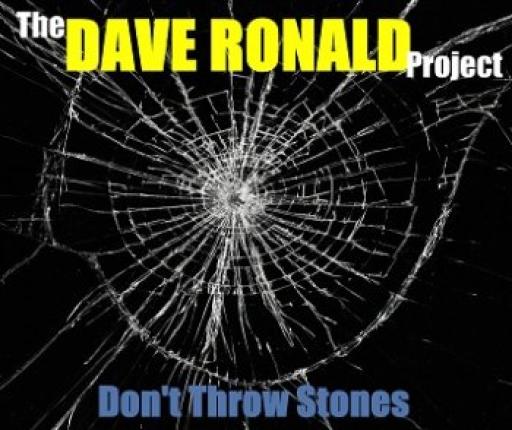 About Us The Dave Ronald Project
The Dave Ronald Project has been making beautiful music together for the last 18 months.
Band members include Dave Ronald (guitar/vocals/producer/songwriter/engineer), Ryan Jones (bass/co-production) and Justin Nelson (drums).
Their newest project titled "Don't Throw Stones" is set for release January, 2012.
Its lead single with the same title is a testament to thinking before you act.
This single has a solid rock based guitar which is just one of many common threads that run through every song.
Other signature sounds are the melodic runs, harmonies and the integration of acoustic and electric guitar that brings a special flavor to these songs.
This style of new wave electro rock music is a lesson in multiple track recordings with every layer recorded at a different speed. Vocals are slow paced; guitar is quicker and so on.
The vocals keep this song in check giving it a sound I've not heard before; phenomenal, out-of-the-box creations with a delightful and clever delivery.
This is The Dave Ronald Project.
This CD is set for release in both physical and digital formats.
A few accomplishments and accolades of this group are:
* #1 on the rock charts for Nelson BC, Canada with 20,000 fans on reverbnation
* Over 326,000 site views * 150,000 songs played at http://www.myspace.com/daverona1dmusic#
* Their last CD, "Can't Stop" was nominated for best rock album at the West Coast Music Awards in Kelowna BC, Canada in 2010
* "Alternative rock with hard to soulful vibes" – Freedom Union Records
Dave also owns and operates All Ears Music Productions, a ProTools HD2 recording studio.
Fans describe Dave's music as a mix of Foo Fighters, Incubus and Peter Gabriel all thrown into one.
I call it a music fusion of sound with a distinct style and texture which is all their own.
You can purchase and/or listen to songs from his current or past albums by logging onto and searching Dave Ronald:
www.daveronald.com.
www.reverbnation.com/daveronald
http://www.facebook.com/pages/Dave-Ronald/113022352044406?v=app_2405167945&ref=sgm
www.myspace.com/daveronaldmusic#
http://soundcloud.com/the-dave-ronald-project
http://www.purevolume.com/TheDaveRonaldProject
www.twitter.com/bigdaver7
www.youtube.com/user/MrBigdaver7
Dave Ronald is currently working with A & R Select based in Beverly Hills, Ca. for licensing, publishing, a record deal and/or placement opportunities.
For additional information, please contact them at: 323-924-5897 www.arselect.com
The Dave Ronald Project Also On
Influences:
Foo Fighters, QUOTSA, Pendulum, Jimi Hendrix, Ben Kenney,
Followers:
Recently Rated:
stats